Happy Pongal 2023 greetings and HD images for free download online: The Tamil population observes a harvest celebration known as Pongal. It is the time to thank the Sun, mother nature, and all the farm animals who help produce the crop that reaches our plates and provides us nourishment. Pongal, observed over four days, ushers in the Tamil month of Thai, which is seen as fortunate. It usually occurs every year on January 14 or 15, per the Gregorian calendar. Pongal 2023 will be celebrated from January 15 to January 18, 2023. The food that is prepared and consumed during this celebration is called Pongal. It consists primarily of cooked sweet rice. It comes from "pongu," a Tamil phrase that means "to boil over." As we celebrate Pongal 2023, here's a collection of Pongal 2023 wishes, Happy Pongal 2023 greetings, Happy Thai Pongal 2023 images, Thai Pongal HD wallpapers, Happy Pongal 2023 photos and more for the multi-day festival. Pongal 2023 Full Calendar With Dates of Bhogi, Thai Pongal, Mattu Pongal and Kanum Pongal: Know Significance and How To Celebrate the Hindu Festival in Tamil Nadu.
The Bhogi festival is the first day of this celebration. Lord Indra, the god of rain, is honoured on the first day of Pongal. On this day, Bhogi Mantalu's ritual is also practised. Every household object that is no longer useful is burned on a bonfire on this day. Cow dung cakes and wood are used to build the bonfire. Day two celebrates Thai Pongal, and the Lord Sun is honoured on this day. Families prepare the Pongal dish on this day. Rice, milk, green gram (mung) jaggery, spices, nuts, and dry fruits are combined in a clay pot. The Lord of the Sun is initially served, after which the families and neighbours gather around and share their Pongal.
On day three, the Mattu Pongal festival honours cows. Bells, grain sheaves, and garlands are used as ornaments on cows and other cattle. It is said that Lord Shiva once sent a bull to the Earth with a message instructing them to take a bath and give themselves an oil massage each day, as well as to eat only once a month. Day four is Kaanum Pongal. Kaanum is the name for Pongal's final day (or Kanu). The women of the home perform a ceremony and offer prayers for the well-being of their brothers on this day. In the courtyard, leftover Pongal sweets and other foods are spread out. They're arranged on a turmeric leaf that's been cleaned, together with betel leaves and betel nuts.
As we gear up to enjoy Pongal 2023, don't forget to share your happiness and best wishes to celebrate the festival with your loved ones. Here's a special compilation of beautiful, thoughtful wishes, messages, greetings and quotes to send Pongal images to your friends and family.
Happy Pongal (File Image)
WhatsApp Message Reads: May This Festival Start With a Streak of Luck and Happier Days Ahead. Happy Pongal!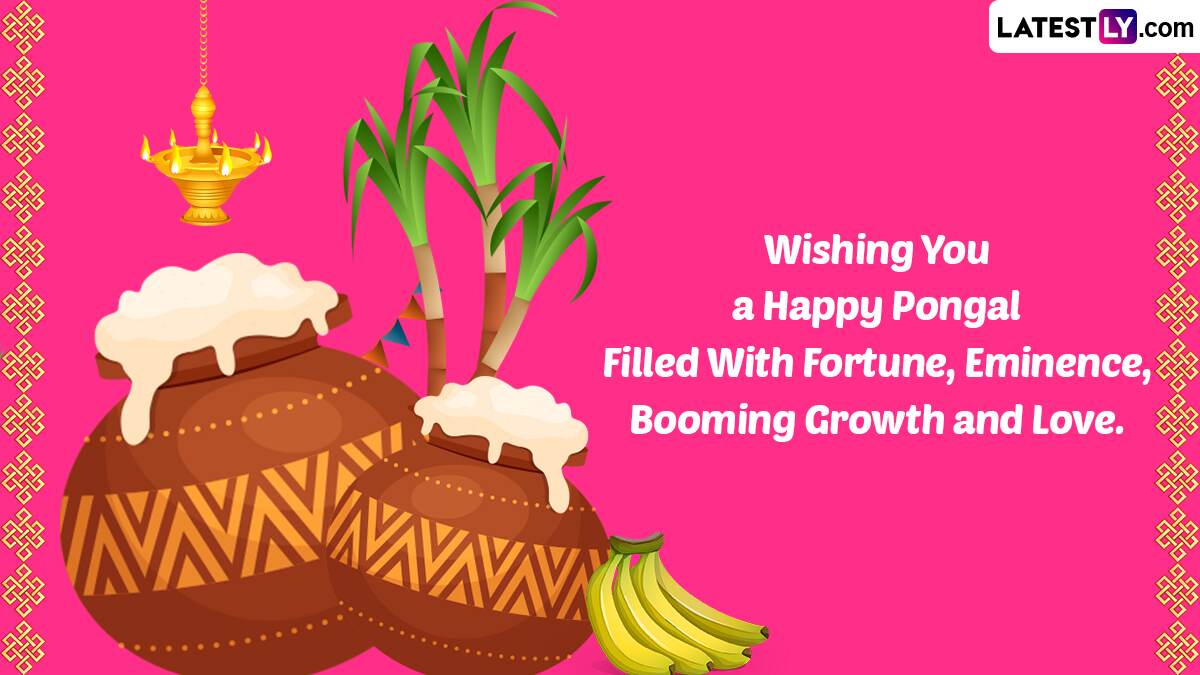 Happy Pongal (File Image)
WhatsApp Message Reads: Wishing You a Happy Pongal Filled With Fortune, Eminence, Booming Growth and Love.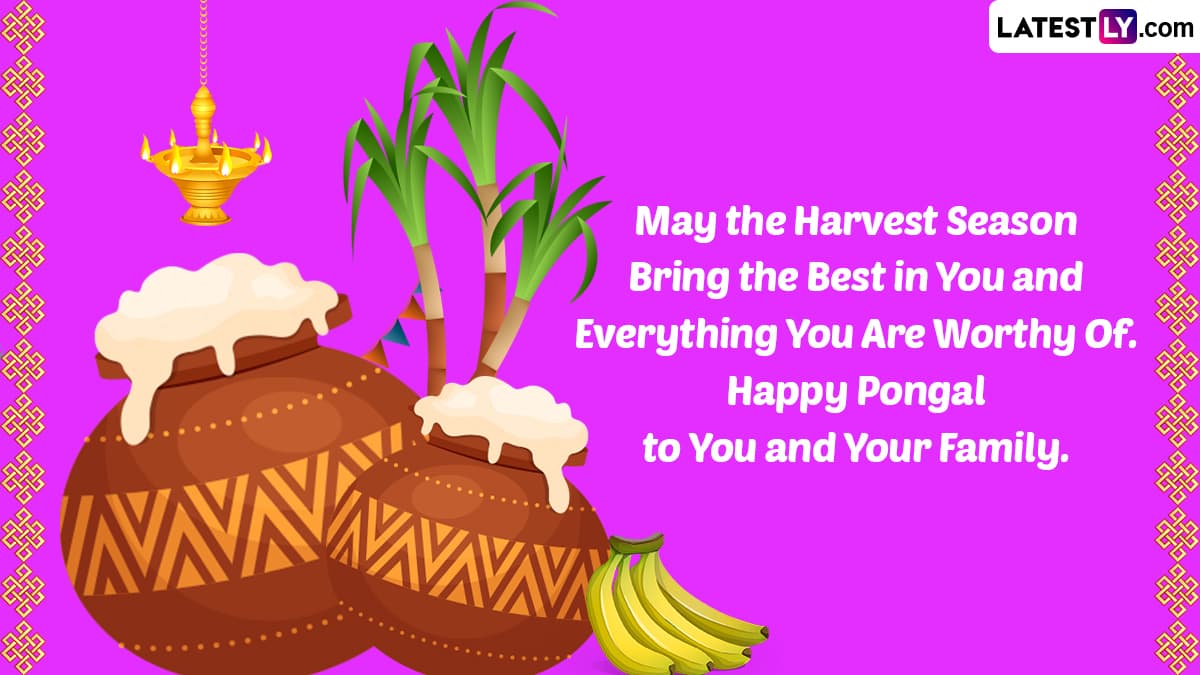 Happy Pongal (File Image)
WhatsApp Message Reads: May the Harvest Season Bring the Best in You and Everything You Are Worthy Of. Happy Pongal to You and Your Family.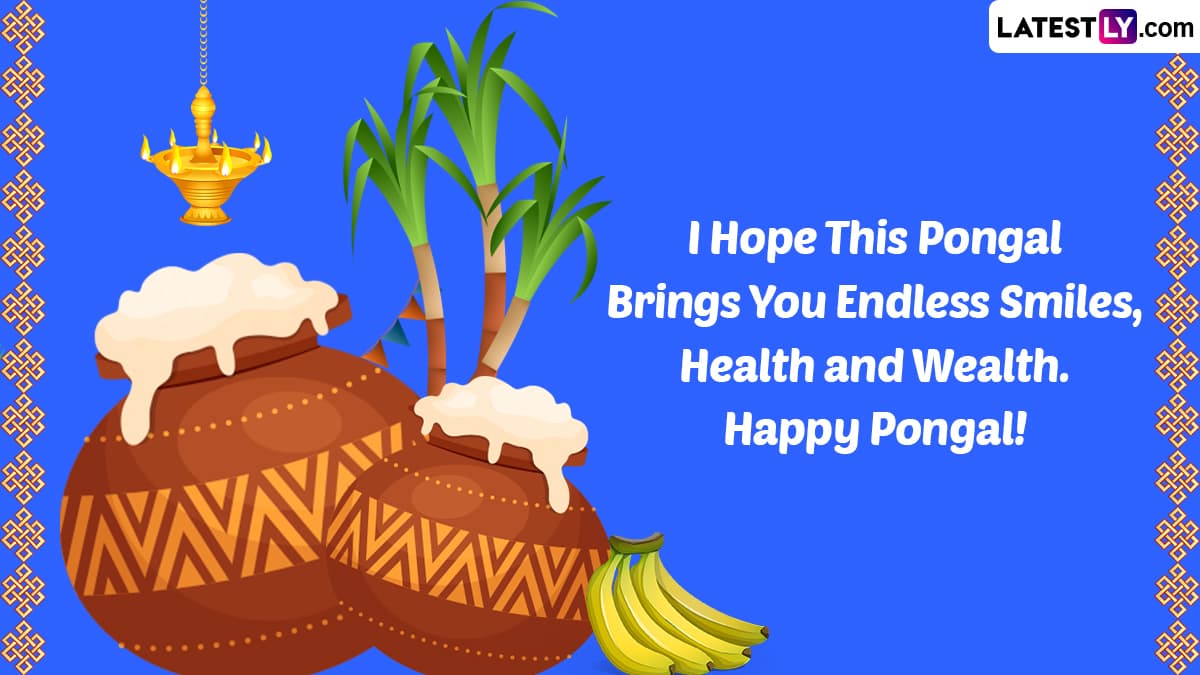 Happy Pongal (File Image)
WhatsApp Message Reads: I Hope This Pongal Brings You Endless Smiles, Health and Wealth. Happy Pongal!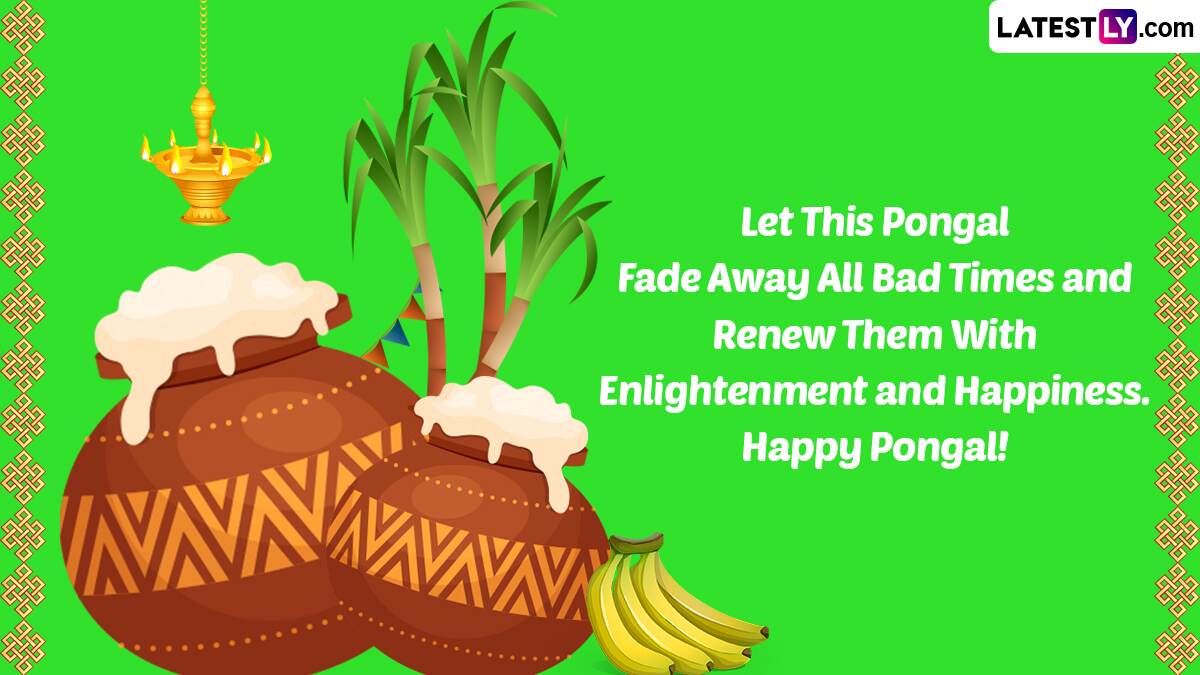 Happy Pongal (File Image)
WhatsApp Message Reads: Let This Pongal Fade Away All Bad Times and Renew Them With Enlightenment and Happiness. Happy Pongal!
The festival, which is known as the "Dravidian Harvest festival," has a tradition that dates to the Sangam Age. But some historians say this holiday dates back at least 2,000 years. The occasion was known as Thai Niradal.
(The above story first appeared on LatestLY on Jan 14, 2023 11:29 AM IST. For more news and updates on politics, world, sports, entertainment and lifestyle, log on to our website latestly.com).