Happy Lohri 2023! North Indians, particularly the people of Punjab, observe Lohri as a famous harvest festival for farmers or as a traditional winter folk festival the night before Makar Sankranti. Lohri 2023 will be celebrated on January 14, Saturday. It honours the Winter Solstice's passage and anticipates longer days as the sun moves toward the northern hemisphere. Since the Earth is closest to the sun at this time of year, Lohri signifies the end of winter and the start of a new harvest season. In the Punjab region of the Indian subcontinent, it is primarily observed by members of the Sikh and Hindu communities. Here's a collection of Lohri 2023 wishes, Happy Lohri 2023 messages, Happy Lohri 2023 images, Lohri 2023 WhatsApp messages, Lohri HD wallpapers, Lohri quotes and more to celebrate the Punjabi harvest festival.
Wheat, Punjab's primary winter crop, is sown in October and at its peak in January across the state's fields in India. After weeks of harvesting the Rabi crop, people would congregate around a campfire and celebrate the passing of the winter solstice and the promise of the approaching spring season as Lohri in January. The crop is later harvested in March. Another unique significance of Lohri is that on this day, the sun enters the Rashi (zodiac) of Makara (Capricorn), which is regarded fortunate since it represents a new beginning.
According to a legend, the celebration of Lohri originated with the story of "Dulla Bhatti," a local hero of the Punjab region who served as a saviour of the populace during the rule of the Mughal Emperor, Akbar, and was known as the "Robin Hood" of Punjab because he would steal from the rich to provide for the poor. His deeds have become legends and have been ingrained in Punjabi culture for a long time. On Lohri, "Dulla Bhatti" is honoured with a number of songs and dances that are performed. To spread happiness and positivity, we have collected some Lohri Festival wishes, quotes, and messages for newborn babies.
Lohri Wishes (File Image)
WhatsApp Message Reads: May God Brighten Our Lives Like the Fire of Lohri and Shower Them With Happiness and Prosperity. Sending Best Wishes on Lohri 2023!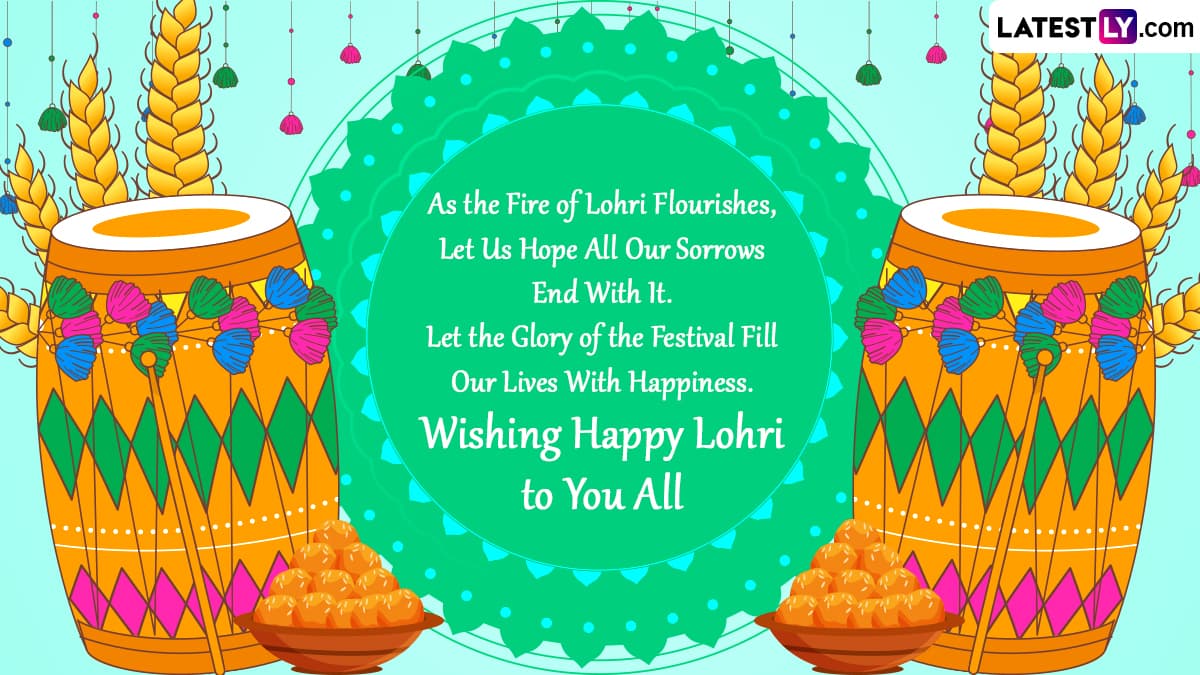 Lohri Wishes (File Image)
WhatsApp Message Reads: As the Fire of Lohri Flourishes, Let Us Hope All Our Sorrows End With It. Let the Glory of the Festival Fill Our Lives With Happiness. Wishing Happy Lohri to You All.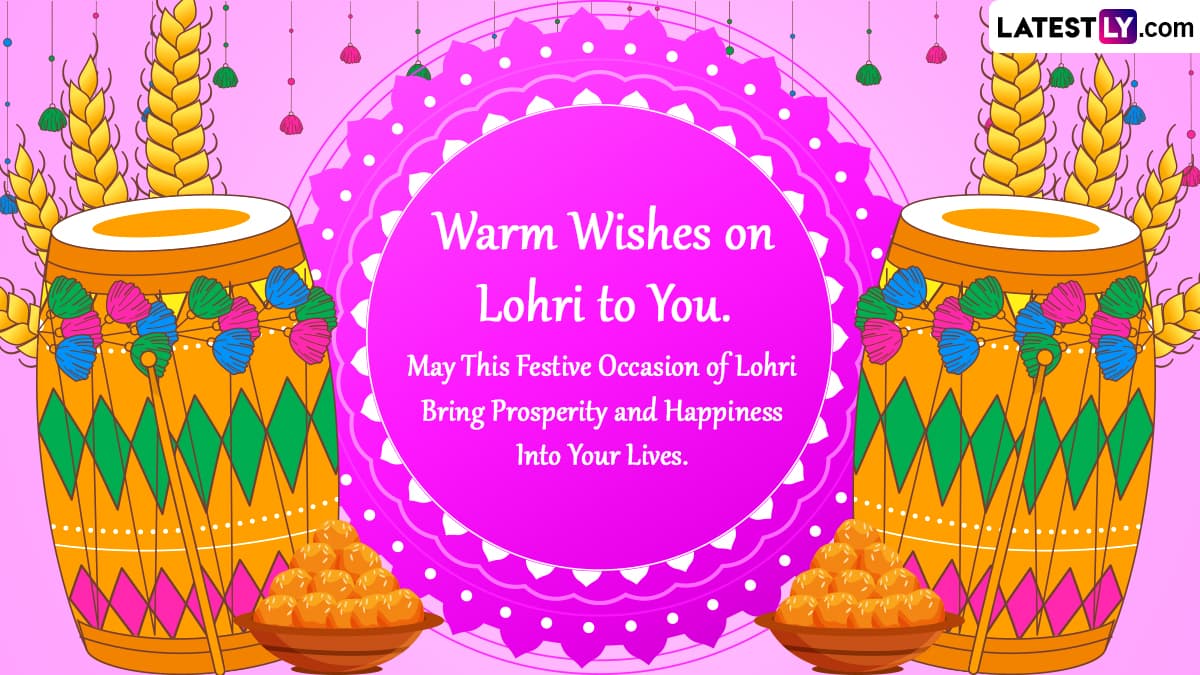 Lohri Wishes (File Image)
WhatsApp Message Reads: Warm Wishes on Lohri to You. May This Festive Occasion of Lohri Bring Prosperity and Happiness Into Your Lives.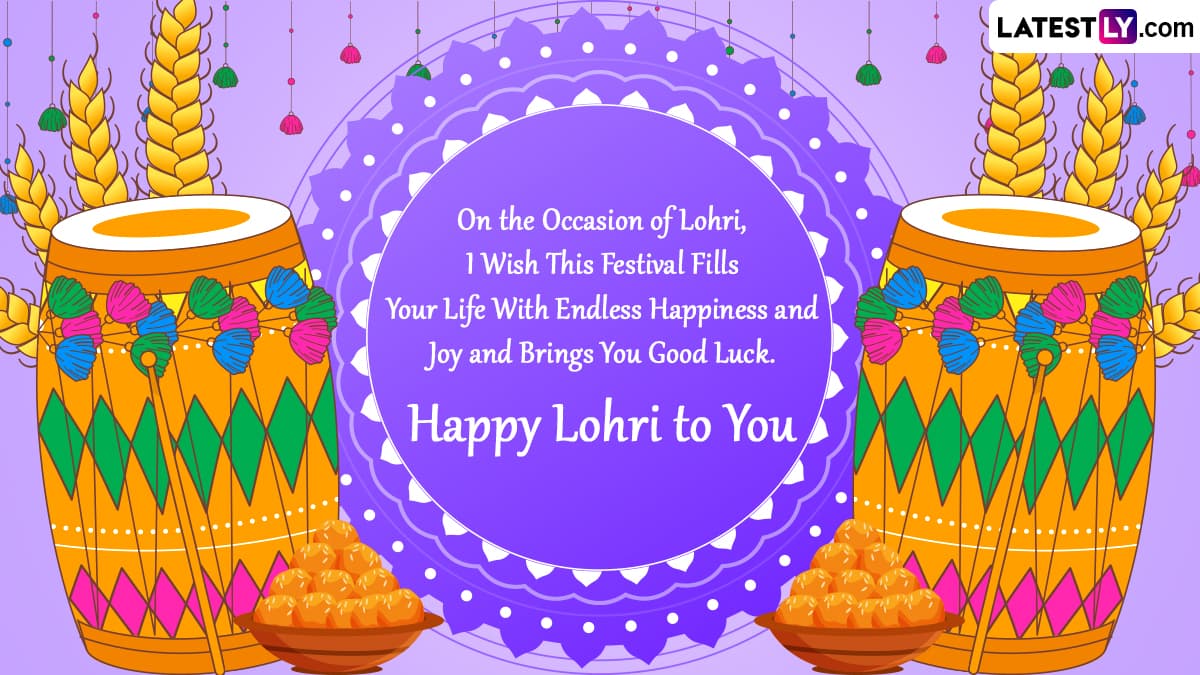 Lohri Wishes (File Image)
WhatsApp Message Reads: On the Occasion of Lohri, I Wish This Festival Fills Your Life With Endless Happiness and Joy and Brings You Good Luck. Happy Lohri to You.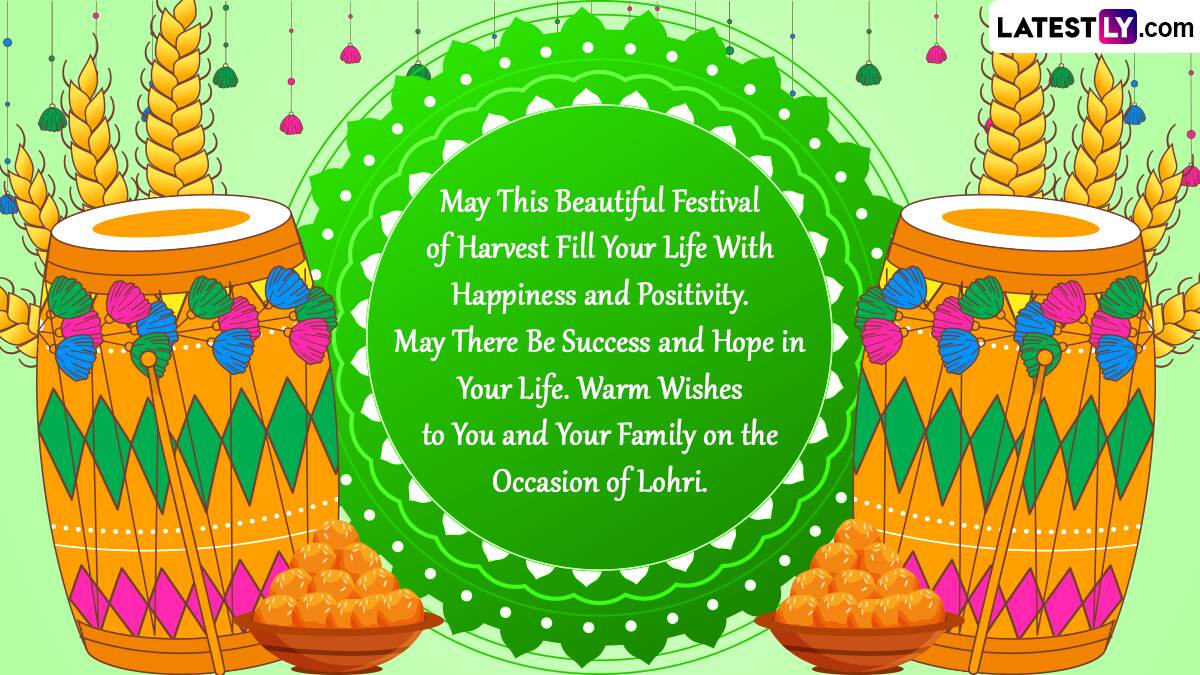 Lohri Wishes (File Image)
WhatsApp Message Reads: May This Beautiful Festival of Harvest Fill Your Life With Happiness and Positivity. May There Be Success and Hope in Your Life. Warm Wishes to You and Your Family on the Occasion of Lohri.
Lohri 2023 Greetings: Celebrate the Punjabi Harvest Festival by Sharing Wishes, Messages and Quotes
How to Download Lohri 2023 WhatsApp Stickers Online?
Another way to wish your family and friends on Lohri 2023 is by downloading beautiful WhatsApp stickers from the Play Store online. HERE is the download link. You will get lovely festive packs, easy to download and share with loved ones.
According to Punjabi mythology, women who grew up hearing the tales of Dulla Bhatti or Abdullah of Pindi Bhattian have a special place in their hearts for the folk tune Sunder Mundriye.
(The above story first appeared on LatestLY on Jan 13, 2023 07:07 AM IST. For more news and updates on politics, world, sports, entertainment and lifestyle, log on to our website latestly.com).